From the Section Youth Coordinator
Anthony Luscre, K8ZT – SYC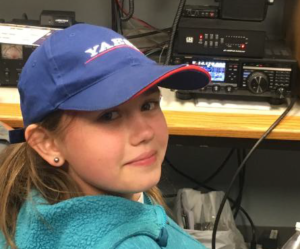 News from KE8LQR
This month, I am sharing the column with Katie Campbell, KE8LQR, the Ohio Section  Assistant Youth Coordinator. So take it away, Katie…
Columbiana Exempted Village School District

Recently, my school's amateur radio and electronics club presented to our school board about potentially getting a permanent station set up in the school to give us the opportunity to operate more often. To provide the school board members a better idea of some of the activities we participate in throughout the year, four of the club's members, including myself, attended the meeting to talk about our experiences and favorite parts of being in the club. Some of the club members' favorite things included getting to talk to hams around the world during the bi-annual ARRL School Club Roundups, making friends around the world, and improving their geography skills during the School Club Roundups as we contacted different places. More information about the ARRL School Club Roundups can be found at http://www.arrl.org/school-club-roundup and https://limarc.org/school-club-roundup. If interested in joining the SCR mailing list, you can join using this link-https://groups.io/g/scr.
 YLRL (Young Ladies Radio League)
In other news, I am now the youth representative for the YLRL (Young Ladies Radio League). I will be writing bi-monthly articles pertaining to young YL's for their newsletter, YL Harmonics. I encourage any YL's who are not already members to look at the YLRL website (https://ylrl.net) and consider becoming a member. Becoming a member of YLRL or checking into one of their nets is a great opportunity to meet and interact with young ladies all over the world!
Back to Anthony…
I know Katie has also been active in the following organization: The Long Island CW Club (LICWC). LICWC sponsors many CW learning activities, including regular sessions (which require paid club membership) and special youngster-only sessions (free). For more information on LICWC, you can view this slideshow- "Long Island CW Club- Much More Than CW Instruction & A Model for Future Organizations" at tiny.cc/licwc. The reason for the long title is that LICWC not only sponsors CW learning sessions but sessions on a wide range of Amateur Radio activities. You can also view the recorded interview I did with the founder Howard Bernstein, WB2UZE for the RATPAC Group in December 2021 at https://youtu.be/yhGLn3btTS0. The RATPAC has over 160 recorded sessions you view at tiny.cc/ratpac-list, plus new weekly events every Wednesday (General Ham Interest) and Thursday (Emergency & Public Service)